Navigation/Menü: Links auf weitere Seiten dieser Website und Banner
---
---
---
05.10.2004

HRSC Bildserie #095 - Claritas Fossae (Orbit 0508)
HRSC Press Release #095 - Claritas Fossae (orbit 0508)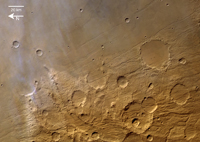 Am 13.06.2004 nahm die hochauflösende Stereokamera (HRSC) auf der ESA Sonde Mars Express im Orbit 508 die östlichen Ausläufer des Grabensystems Claritas Fossae mit einer Auflösung von 40 Metern pro Bildpunkt auf. Die Abbildungen zeigen einen Ausschnitt bei 28° südlicher Breite und 260° östlicher Länge im Übergang der Claritas Fossae zur Solis Planum Ebene im Osten.
On 13 June 2004 the High Resolution Stereo Camera onbard the ESA spacecraft Mars Express took image data from the eastern part of the tectonic grabens Claritas Fossae and the western parts of the Solis Planum plains located at 28° southern latitude and 260° eastern longitude. The data was taken with a ground resolution of about 40 metres per pixel during Mars Express orbit 508.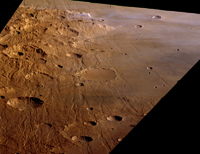 Die Region ist geprägt von hauptsächlich nordwest -südost verlaufenden bis zu mehreren hundert Meter breiten tektonischen Gräben, die im Bereich der kleineren Tharsisvulkane im Norden beginnen und die stark vulkanisch geprägten Ebenen Daedalia Planum im Westen von der östlichen Ebene Solis Planum abgrenzen. Die Solis Planum Lavadecken im Osten reichen bis an die höhergelegenen Gebiete der Claritas Fossae Region heran und verfüllen kleinere Buchten, Täler und Einschlagskrater. Deutlich erkennbar sind die unregelmässigen und teilweise erodierten Fronten der Lavadecken. Anhand der Überlagerung von tektonischen Brüchen, Einschlagskratern, kleinen Talsystemen und Lavadecken lässt sich die relative Altersabfolge bestimmen. Die komplexe Art der Überlagerung zeigt jedoch auch deutlich, dass mehrere Prozesse gleichzeitig oder mit längeranhaltenden Unterbrechungsperioden stattgefunden haben.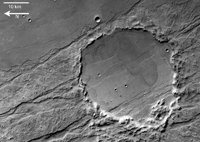 Detailaufnahmen des südlichen großen Kraters zeigen in einigen Bereichen ein verhältnismäßig dunkles Material, welches den Kraterboden im randlichen und zentralen Teil verfüllt hat. Die blau-weissen nordost-südwest verlaufenden Schlieren im Norden sind auf Wolken oder Aerosole in der Atmosphäre zurückzuführen.
The Claritas Fossae region as seen in these images is characterised by mainly northwest-southeast trending systems of grabens which can be traced several hundred kilometres to the northern Tharsis shield volcanoes. Geographically, the grabens separate the eastern volcanic plains of the Solis Planum region from the western Daedalia Planum lava plains.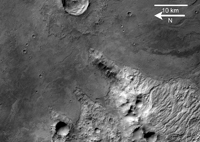 The lava blankets of the Solis Planum area cover and embay the eastern parts of the older Claritas Fossae ridge. The geologic history of this region can be reconstructed by analysing the superposition of tectonic grabens, impact craters, volcanic features and even small valley networks. The complexity of the superposition record suggests that some of the events took place at the same time. Detailed views of the large southern impact crater show patches of dark material which are located near the central and marginal parts of the impact crater floor. This material may be of volcanic origin. Diffuse bluish-whitish streaks in the northern parts of the scene shows that the area is covered with clouds or aerosols. of the scene.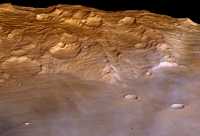 Die Farbansichten wurden aus dem senkrecht blickenden Nadirkanal und den Farbkanälen erstellt, die Schrägansicht wurde aus den Stereokanälen der HRSC berechnet. Die Anaglyphen werden aus dem Nadirkanal und einem Stereokanal abgeleitet. Die schwarzweißen Detailaufnahmen wurden dem Nadirkanal entnommen, der von allen Kanälen die höchste Auflösung zur Verfügung stellt.
The colour scenes have been derived from the three HRSC-colour channels and the nadir channel. The perspective views have been calculated from the digital terrain model derived from the stereo channels. The anaglyph image was calculated from the nadir and one stereo channel. The black and white high resolution images were derived form the nadir channel which provides the highest detail of all channels.
Das Kameraexperiment HRSC auf der Mission Mars Express der Europäischen Weltraumorganisation ESA wird vom Principal Investigator Prof. Dr. Gerhard Neukum (Freie Universität Berlin), der auch die technische Konzeption der hochauflösenden Stereokamera entworfen hatte, geleitet. Das Wissenschaftsteam besteht aus 40 Co-Investigatoren aus 33 Institutionen und zehn Nationen. Die Kamera wurde am Deutschen Zentrum für Luft- und Raumfahrt (DLR) unter der Leitung des Principal Investigators (PI) G. Neukum entwickelt und in Kooperation mit industriellen Partnern gebaut (EADS Astrium, Lewicki Microelectronic GmbH und Jena -Optronik GmbH). Sie wird vom DLR -Institut für Planetenforschung in Berlin-Adlershof betrieben. Die systematische Prozessierung der Daten erfolgt am DLR. Die Darstellungen wurden vom Institut für Geologische Wissenschaften der FU Berlin in Zusammenarbeit mit dem DLR-Institut für Planetenforschung erstellt.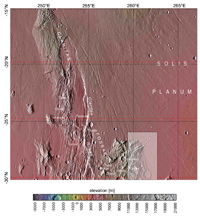 The High Resolution Stereo Camera (HRSC) experiment on the ESA Mars Express Mission is led by the Principal Investigator (PI) Prof. Dr. Gerhard Neukum who also designed the camera technically. The science team of the experiment consists of 40 Co-Investigators from 33 institutions and 10 nations. The camera was developed at the German Aerospace Center (DLR) under the leadership of the PI G. Neukum and built in cooperation with industrial partners (EADS Astrium, Lewicki Microelectronic GmbH and Jena-Optronik GmbH). The experiment on Mars Express is operated by the DLR Institute of Planetary Research, through ESA/ESOC. The systematic processing of the HRSC image data is carried out at DLR. The scenes shown here were created by the PI-group at the Institute for Geological Sciences of the Freie Universitaet Berlin in cooperation with the German Aerospace Center (DLR), Institute of Planetary Research, Berlin.
© Copyright: ESA/DLR/FU Berlin (G. Neukum)
Download
hochaufgelöste Bilddaten / full resolution image data