Navigation/Menü: Links auf weitere Seiten dieser Website und Banner
---
---
---
16.08.2004

HRSC Bildserie #067 - Dao Vallis (Orbit 0528)
HRSC Press Release #067 - Dao Vallis (orbit 0528)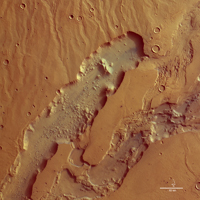 Am 19. Juni 2004 nahm die hochauflösende Stereokamera (HRSC) auf der Esa Sonde Mars Express im Orbit 528 Teile der Täler Dao- und Niger-Vallis mit einer Bildauflösung von ungefähr 40 m pro Bildpunkt auf. Die Täler liegen im Randbereich des Vulkangebietes Hesperia Planum und des Hellas Beckens, bei 32° südlicher Breite und 93° östlicher Länge.
The images were taken by the high-resolution stereo camera (HRSC) onboard the ESA spacecraft Mars Express in orbit 528 on 19 June 2004 with a resolution of 40 metres per pixel. The scenes show Dao- and Niger-Vallis at the transit of the north-eastern region of the Hellas impact-crater-basin and the volcanic region Hesperia Planum at 93° eastern longitude and 32° southern latitude.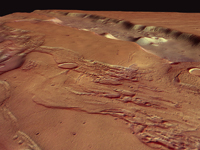 Das als Outflow Channel bezeichnete Talsystem ist an einigen Stellen bis zu 40 km breit. Die nordöstlichen Talköpfe liegen ca. 200 m tiefer, als die hier abgebildeten Talausgänge. Während das nördlichere Dao-Vallis im Mittel 2400 m tief ist, ist das südlichere Niger-Vallis knapp 1000 m weniger eingetieft. Dafür weist das Niger-Vallis eine deutlich chaotische Talbodenstruktur auf. Im Wesentlichen ist das Niger-Vallis von terrassierten Beckenstrukturen und Bruchstrukturen dominiert. Das Dao-Vallis weist einen ebeneren Talboden mit zahlreichen, stark verwitterten Restbergen im Talinnern auf. Die Täler sind in einem Gebiet eingeschnitten, das noch zum Südhang des Vulkans Hadriaca Patera zählt. An der Oberfläche lassen sich noch zahlreiche Lavaströme und möglicherweise auch Oberflächenabflussrinnen erkennen.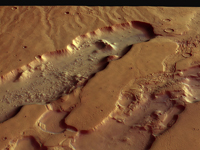 This Outflow-Channel system is in some areas 40 km wide. The north-eastern ends of the two valleys are almost 200m deeper as the south-western regions which are shown in this scene. The northern Dao-Vallis, 2400 m deep, is about 1000 m deeper as the southerly Niger-Vallis. The structure of the valley floor of the Niger-Vallis is characterised by terraced basins and chaotic fractures. The valley-floor of the Dao-Vallis is much smoother, but is riddled with strongly eroded remnants. The valleys are eroded in a region, which is part of the southern flank of the volcano Hadriaca Patera. The surrounding surface is formed by lava streams and probably by a run-off pattern.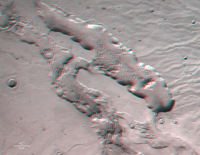 Die Farbansichten wurden aus dem senkrecht blickenden Nadirkanal und den Farbkanälen erstellt, die Schrägansicht wurde aus den Stereokanälen der HRSC berechnet. Die Anaglyphen werden aus dem Nadirkanal und einem Stereokanal abgeleitet. Die schwarzweißen Detailaufnahmen wurden dem Nadirkanal entnommen, der von allen Kanälen die höchste Auflösung zur Verfügung stellt.
The colour scenes have been derived from the three HRSC-colour channels and the nadir channel. The perspective views have been calculated from the digital terrain model derived from the stereo channels. The anaglyph image was calculated from the nadir and one stereo channel. The black and white high resolution images were derived form the nadir channel which provides the highest detail of all channels.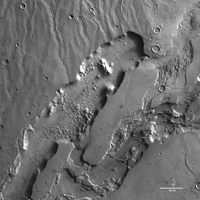 Das Kameraexperiment HRSC auf der Mission Mars Express der Europäischen Weltraumorganisation ESA wird vom Principal Investigator Prof. Dr. Gerhard Neukum (Freie Universität Berlin), der auch die technische Konzeption der hochauflösenden Stereokamera entworfen hatte, geleitet. Das Wissenschaftsteam besteht aus 40 Co-Investigatoren aus 33 Institutionen und zehn Nationen. Die Kamera wurde am Deutschen Zentrum für Luft- und Raumfahrt (DLR) unter der Leitung des Principal Investigators (PI) G. Neukum entwickelt und in Kooperation mit industriellen Partnern gebaut (EADS Astrium, Lewicki Microelectronic GmbH und Jena -Optronik GmbH). Sie wird vom DLR -Institut für Planetenforschung in Berlin-Adlershof betrieben. Die systematische Prozessierung der Daten erfolgt am DLR. Die Darstellungen wurden vom Institut für Geologische Wissenschaften der FU Berlin in Zusammenarbeit mit dem DLR-Institut für Planetenforschung erstellt.
The High Resolution Stereo Camera (HRSC) experiment on the ESA Mars Express Mission is led by the Principal Investigator (PI) Prof. Dr. Gerhard Neukum who also designed the camera technically. The science team of the experiment consists of 40 Co-Investigators from 33 institutions and 10 nations. The camera was developed at the German Aerospace Center (DLR) under the leadership of the PI G. Neukum and built in cooperation with industrial partners (EADS Astrium, Lewicki Microelectronic GmbH and Jena-Optronik GmbH). The experiment on Mars Express is operated by the DLR Institute of Planetary Research, through ESA/ESOC. The systematic processing of the HRSC image data is carried out at DLR. The scenes shown here were created by the PI-group at the Institute for Geological Sciences of the Freie Universitaet Berlin in cooperation with the German Aerospace Center (DLR), Institute of Planetary Research, Berlin.
© Copyright: ESA/DLR/FU Berlin (G. Neukum)
Download
hochaufgelöste Bilddaten / full resolution image data