Navigation/Menü: Links auf weitere Seiten dieser Website und Banner
---
---
---
23.08.2004

HRSC Bildserie #072 - Crater Dune (Orbit 0427)
HRSC Press Release #072 - Crater Dune (orbit 0427)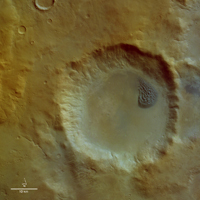 Die Bilddaten wurden am 22.05.2004 im Orbit 427 von der hochauflösenden Stereokamera HRSC auf Mars Express mit einer Auflösung von ungefähr 16,2 m pro Bildpunkt aufgenommen und zeigt einen Krater im nord-westlichem Randbereich des Argyre Planetia Einschlagsbeckens, auf dessen Boden sich ein Dünenfeld befindet. Das Kraterzentrum liegt ungefähr bei 303,2° östlicher Länge und 43,9° südlicher Breite.
On 22 May 2004 the High-Resolution Stereo Camera (HRSC) onboard the ESA spacecraft Mars Express obtained image data from a crater with a dune field on its floor in orbit 427 with a ground resolution of approximately 16.2 metres per pixel. The displayed region is located at the north-western part of the Argyre Planitia crater basin at about 43° southern latitude and 303° eastern longitude.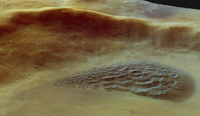 Der Krater besitzt einen Durchmesser von ungefähr 45 km und ist bis zu 2 km tief. Am nordöstlichen Bereich des Kraterbodens ist ein Dünenfeld zu erkennen, das aus dunklem, wahrscheinlich basaltischem Sand besteht und eine Fläche von ca. 7 x 12 km umfasst. Einen Hinweis auf mögliche Windrichtungen in diesem Bereich lässt sich aus der Dünenform ableiten. Auf der Erde sind Barchane Dünen in sehr trockenen Gebieten, die im Luv flach und im Lee steil sind und deren Sichelenden mit der vorherrschenden Windrichtung vorauseilen. Der Dünenkörper in diesem Bild weist deutliche eine Übersteilung im westlichen Bereich auf. Wenn erdähnliche Prozesse angenommen werden können, würde das auf eine östliche Windströmung hinweisen. Die Herkunft des Dünenmaterials ist unklar.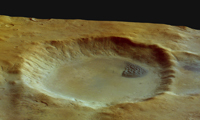 The diametre of the crater is about 45 km and it is 2 km deep. In the north-eastern part of this crater is a complex dune field, 7 km wide and 12 km long, which consists of dark, possibly basaltic sands. In arid zones on earth, barchanes are dunes, which have a asymmetrical profile, with a gentle slope on the wind facing side and a steep slope on the lee-side. This dune field shown here suggests an easterly wind direction with its steeper western part.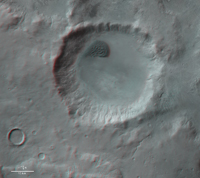 Die Farbansichten wurden aus dem senkrecht blickenden Nadirkanal und den Farbkanälen erstellt, die Schrägansicht wurde aus den Stereokanälen der HRSC berechnet. Die Anaglyphen werden aus dem Nadirkanal und einem Stereokanal abgeleitet. Die schwarzweißen Detailaufnahmen wurden dem Nadirkanal entnommen, der von allen Kanälen die höchste Auflösung zur Verfügung stellt.
The colour scenes have been derived from the three HRSC-colour channels and the nadir channel. The perspective views have been calculated from the digital terrain model derived from the stereo channels. The anaglyph image was calculated from the nadir and one stereo channel. The black and white high resolution images were derived form the nadir channel which provides the highest detail of all channels.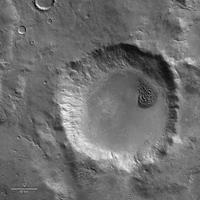 Das Kameraexperiment HRSC auf der Mission Mars Express der Europäischen Weltraumorganisation ESA wird vom Principal Investigator Prof. Dr. Gerhard Neukum (Freie Universität Berlin), der auch die technische Konzeption der hochauflösenden Stereokamera entworfen hatte, geleitet. Das Wissenschaftsteam besteht aus 40 Co-Investigatoren aus 33 Institutionen und zehn Nationen. Die Kamera wurde am Deutschen Zentrum für Luft- und Raumfahrt (DLR) unter der Leitung des Principal Investigators (PI) G. Neukum entwickelt und in Kooperation mit industriellen Partnern gebaut (EADS Astrium, Lewicki Microelectronic GmbH und Jena -Optronik GmbH). Sie wird vom DLR -Institut für Planetenforschung in Berlin-Adlershof betrieben. Die systematische Prozessierung der Daten erfolgt am DLR. Die Darstellungen wurden vom Institut für Geologische Wissenschaften der FU Berlin in Zusammenarbeit mit dem DLR-Institut für Planetenforschung erstellt.
The High Resolution Stereo Camera (HRSC) experiment on the ESA Mars Express Mission is led by the Principal Investigator (PI) Prof. Dr. Gerhard Neukum who also designed the camera technically. The science team of the experiment consists of 40 Co-Investigators from 33 institutions and 10 nations. The camera was developed at the German Aerospace Center (DLR) under the leadership of the PI G. Neukum and built in cooperation with industrial partners (EADS Astrium, Lewicki Microelectronic GmbH and Jena-Optronik GmbH). The experiment on Mars Express is operated by the DLR Institute of Planetary Research, through ESA/ESOC. The systematic processing of the HRSC image data is carried out at DLR. The scenes shown here were created by the PI-group at the Institute for Geological Sciences of the Freie Universitaet Berlin in cooperation with the German Aerospace Center (DLR), Institute of Planetary Research, Berlin.
© Copyright: ESA/DLR/FU Berlin (G. Neukum)
Download
hochaufgelöste Bilddaten / full resolution image data